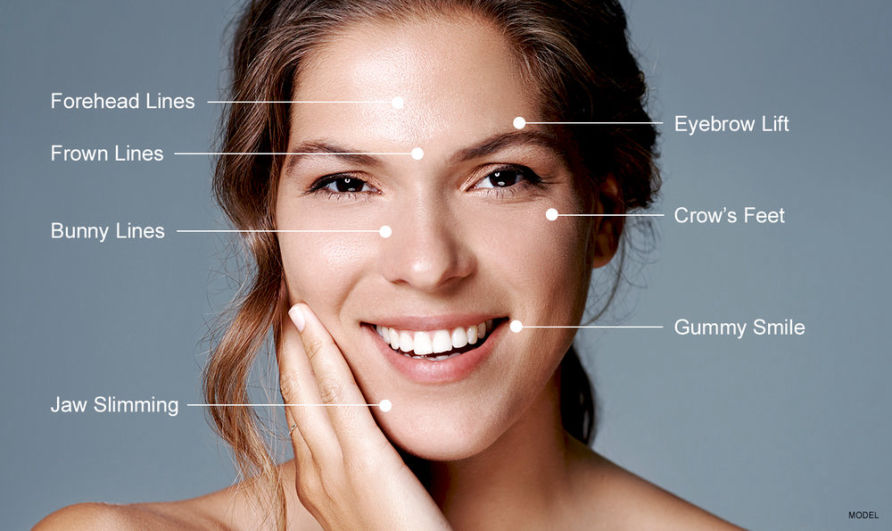 Botox® is the world's most popular anti-ageing prescription treatment. It is the number one selling treatment of its kind in the world and is approved by the MHRA for both medical and cosmetic use in the UK.
Botox® is a naturally made protein than is then purified and suspended in a sterile sodium chloride solution. It has to be carefully stored and transported under temperature-controlled conditions.  Botox® is well-studied treatment and has a record of experience and results that aesthetic practitioners know and trust.
The team of specialist Doctors and Nurses who administer Botox® at our clinic in Bradford have advanced training and extensive experience in achieving a range of looks, often combining wrinkle relaxers with Dermal Fillers.
At Hannah Aesthetic and Health Clinic, we pride ourselves in the use of 100% genuine c direct from Allergan, the manufacturers of all Botox® injectables. We do not offer inferior toxins.
Over time repeated movements of the facial muscles of expression, cause the skin to crease. Initially these "expression lines" are only present when the muscles contract but over time the skin loses its elasticity (less collagen is produced) and these lines become more visible and eventually permanent.
Botox® is therefore commonly used to reduce the lines and wrinkles by weakening the muscles. Botox® is also useful for stopping excessive sweating in the underarms.
The areas suitable for treatment include:
Horizontal forehead lines
Crow's feet
Bunny lines
Gummy lines
Underneath the lower eyelid
Upper lip (vertical lip lines)
Chin (dimpling)
Masseters
Underarms (excessive sweating)
Botox® is a prescribed drug and should be delivered in a medical environment by a fully trained & qualified Nurse or Doctor.
When you cannot have Botox®?
In certain circumstances, Botox® injections are not recommended, including if:
you have a skin infection
you're unwell in any way
you have a neuromuscular condition like myasthenia gravis
you're taking certain medicines such as antibiotics
you're pregnant or breastfeeding
Botox® treatments usually take between 15-20 minutes.  Very small doses of the potent toxin are injected directly into the muscles that cause wrinkles using a small fine needle. Botox® blocks the nerve signals to certain muscles.
There is little or no discomfort experience. In the hands of an experienced practitioner, applying good technique, treatment with Botox® should not change your facial appearance dramatically or make you look completely expressionless.
You will not see a change straight away.  Botox® takesabout 2 or 3 days to start working, and 2 weeks to see the full effect.
Do not massage or rub your face for 24 hours.
Do not lie down and avoid vigorous exercise for 4 hours after treatment.
Avoid alcohol consumption for 24 hours.
Avoid makeup to the area for 12 hours.
Avoid sunbathing (including using sunbeds), and the sauna for 2 weeks.
The results of Botox® are not permanent. We recommend for best results to have treatments every 3-4 months. After repeated treatments, the results will last longer therefore treatments can be spaced every 5-6 months.
The risks of Botox® injections are small if it's done correctly by a suitably qualified practitioner. Speak to your practitioner about the risks.
After treatment you may have
A headache and flu-like symptoms for the first 24 hours. 
Bruising, swelling and redness where the needles went in the skin.
Temporary weakness and droopiness in your face – for example, your eyelids or eyebrows may droop if the Botox® moves into these areas.
*Very rarely, serious problems such as blurred or double vision can happen if the area around the eyes is treated, or breathing difficulties if the neck area is injected.
Standard areas include crow's feet, glabella and the forehead
Excess Underarm Sweating (Hyperhidrosis)
Cost given for below treatments are for 'single treatments' only.​


Lower eyelid lines
Bunny lines
Upper lip lines
Gummy smile
Dimpled chin
Droopy mouth corners
Standard areas include crow's feet, glabella and the forehead
Excess Underarm Sweating (Hyperhidrosis)
Cost given for below treatments are for 'single treatments' only.​


Lower eyelid lines
Bunny lines
Upper lip lines
Gummy smile
Dimpled chin
Droopy mouth corners