Radio frequency is transmitted to the deepest layers of the skin
Creates a lifting and tightening effect
For areas of the face and body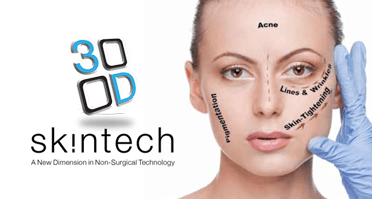 Skin Tightening with 3D-skintech
Non-surgical skin tightening as a treatment is grown in popularity due to advancing technology and most importantly the results that can be achieved.  Here, at Hannah Clinic, we offer 3D-skintech radio frequency skin tightening for the face and body, with the most popular areas treated being the cheek & jowls, eyes and stomach. 
We offer free consultation which allows you to talk to one of the practitioners who perform the skin tightening treatment, giving you all the information you need to make an informed decision.
3D- skintech combines clinical technologies of a standalone quality in one amazing device with medical grade skincare and peels for the effective treatment of Acne, Pigmentation & Anti-Ageing. No other system offers the individual standalone quality of each technology in a multi- platform device.
The 3D- skintech not only offers a comprehensive range of combination treatments but can also be used for dedicated services such as microdermabrasion, mesotherapy, skin tightening & LED. As a further alternative, each technology can act as an accent service to any treatment allowing you to focus on areas of concern. It is important to stress that the 3D-skintech's individual technologies represent the best of what is available on the leading "stand-alone" devices unlike most other combined offerings available.
3D Skin Tightening Radio Frequency
Standard Combination Treatments
3D Microdermabrasion + 3D Mesotherapy
3D Microdermabrasion + 3D LED Light Therapy
3D Microdermabrasion + 3D Mesotherapy + 3D LED Light Therapy
3D Microdermabrasion + 3D Mesotherapy + 3D LED Light Therapy + 3D Skin Tightening
3D Skin Tightening Radio Frequency
Standard Combination Treatments
3D Microdermabrasion + 3D Mesotherapy
3D Microdermabrasion + 3D LED Light Therapy
3D Microdermabrasion + 3D Mesotherapy + 3D LED Light Therapy
3D Microdermabrasion + 3D Mesotherapy + 3D LED Light Therapy + 3D Skin Tightening