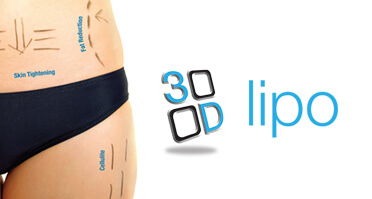 3D-Lipo is a powerful non-surgical approach to liposuction that reduces body fat by destroying fat cells.
We offer an unrivalled high definition, clinically proven, fat freezing procedure. Using the latest revolutionary technology, our safe and affordable fat freezing treatment – which is a powerful new alternative to liposuction – is able to target any pocket of fat in almost any area.
Using just one machine, you will achieve fat reduction, cellulite removal and skin tightening – it's no wonder it's one of the most talked about 'miracle' treatments favoured by celebrities!
Your 3d Lipo treatment and care plan will be managed by qualified therapist, so you can rest assured that you will be in the best possible hands throughout the whole of the pain-free procedure.
The 3D treatment involves four different options and methods for destroying fat cells and improving the appearance of problem areas.  Combing the treatments can mean less fat, tighter skin and less cellulite in treated areas.
Cryolipolysis & 

Cavitation 

 for fat reduction

Radio Frequency for skin tightening
Dermology for cellulite reduction.
Cryolipolysis is when the fat cells are frozen – the extreme cold aims to destroy fat cells, which can then be "disposed of" by the body naturally in the weeks after the treatment.
Ultrasound Cavitation uses ultrasound to rupture fat cells, turning the cells into liquid can then be carried away as waste.
Radio Frequency selectively heats skin tissues which can causes collagen fibres to contract to produce new collagen – designed to provide tighter looking skin.
3D Dermology and Radio Frequency can then be used to drain away useless fat cells through the lymphatic system by using special vacuum suction and rollers.
Each method of treatment takes between 30-60 minutes and we encourage our clients having the procedure to maintain a healthy and active lifestyle to get the best results.
Results can begin to become visible anywhere between two and six months and each treatment varies in price – but you're usually looking at anywhere from £100 to a couple of hundred pounds, with course options available. 
It is a revolutionary way of destroying fat cells without going through traditional surgical liposuction. There are four main treatments that 3D Liopmed offers. We recommend combination of treatments for best results.
Cavitation is the latest non- invasive body contouring treatment for localised fat and deep cellulite. Four Transducers ensure a large treatment area and reduced treatment time.
DUO Cryolipolysis (Fat Freeze)
Using the unique combination of electro and cryo therapy, 20-40% of the fat cells in the treated area die in a natural way and dissolve over the course of several months. The 3D- lipomed allows 2 areas to be treated simultaneously.
Before and after a Course of 2 Cryolipolysis & 6 Cavitation's
Photo taken from The Meadow Clinic, Rugby
Focus Fractional Radio Frequency (Skin Tightening)
Focus Fractional Radio Frequency is the 3rd generation of RF Technology. It utilises three or more poles/electrodes to deliver the radio frequency energy under the skin. This energy is controlled and limited to the treatment area. Key advantages of this technology are high treatment efficacy, no pain as less energy is required, shorter treatment services and variable depths of penetration.
3D- Dermology RF (Cellulite Reduction)
The new 3D- lipomed incorporates 3D- dermology RF with the stand alone benefits of automated vacuum skin rolling and radio frequency.
A complete approach to the problem
Inch Loss
Cellulite reduction
Skin tightening for the face and body
No exercise required post treatment. However, at Hannah Aesthetic clinic we recommend healthy eating and regular exercise to enjoy lifelong health benefits.
Who is not suitable for this Treatment?
As a non invasive treatment it is safe to use this treatment in most cases. However, we do not offer this treatment if you are pregnant or breastfeeding. A detailed consultation with health questionnaire is conducted by a therapist prior to any treatment.
3D CRYOLIPOLYSIS – Fat Freezing
TIGHTENING – 3D Radio Frequency
SLIM AND TIGHTENING - 3D Cavitation +3D Dermology + Radio Frequency
SKIN TIGHTENING FACIAL - 3D Radio Frequency
3D CRYOLIPOLYSIS – Fat Freezing
TIGHTENING – 3D Radio Frequency
SLIM AND TIGHTENING - 3D Cavitation +3D Dermology + Radio Frequency
SKIN TIGHTENING FACIAL - 3D Radio Frequency